Ecommerce Solutions
Ecommerce or electronic commerce is one of the hottest buzzwords on the Internet right now. Ecommerce giants like Dell Computer and Amazon Books have become household names. Ecommerce simply means selling items from your web site instead of, or in addition to, your traditional sales method.
There are basically three different approaches we take to ecommerce which vary in price and complexity. Complete Store Solutions, Simple Store or Order Form Only.
Complete Store Solutions
We are currently restructuring our ecommerce offerings.
We have some exciting new ecommerce offerings coming soon!
Simple Store Solution

PayPal Shopping Cart - More Information | Demo
PayPal offers a simple shopping cart solution with their business accounts. PayPal takes a percentage of the transaction and provides the hosting for the secure checkout process. (Transaction Fees - 1.9% to 2.9% + $0.30 USD)
Customers shop on your website and pay on PayPal.
Complete Explanation from PayPal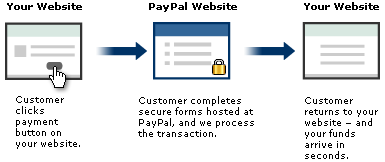 Sign up for a PayPal Business Account
Requirements & Costs:
Installation Fee: $30.00
Monthly License Fee: Free
Monthly Hosting Fee: $9.95 - $24.95 (any hosting account)
SSL Certificate: Not required
Merchant Account and Gateway Account: Not required
PayPal Business Account: Free
Order Form Only
Simple Order Form - Demo
We create a online order form where users submit their order and credit card information over a secure connection. You receive an email and then charge and verify the card manually or through your virtual terminal and ship the product.
Note: This is not a shopping cart or compelte store solution.
Requirements & Costs:
Installation Fee: $75.00 - $250.00
Monthly License Fee: Free
Monthly Hosting Fee: $24.95
SSL Certificate: $64.95/year
Merchant Account and Gateway Account: (cost varies)